Peppermint Essential Oil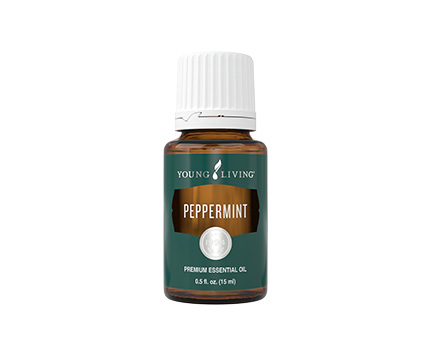 About the Product
Fresh, nostalgic, and instantly recognizable, Peppermint essential oil's scent invigorates the mind and senses, while inspiring a sense of peace. Used topically, Peppermint oil creates a cool, tingling sensation on the skin, making it a favorite for sports massage and an important part of Young Living's Raindrop Technique®. When your day is dragging—through a workout, class, or day at work—enjoy some Peppermint oil benefits by applying it to your head and neck. The refreshing aroma will give you a boost of positivity! Peppermint is also a great option for diffusing on its own or with compatible scents such as Lavender, Rosemary, Spearmint, or Sage! Peppermint is a key ingredient in PanAway®, AromaEase®, Aroma Siez™, Relieve It™, and Deep Relief™ Roll-On essential oil blends. Peppermint uses: After a tough workout, dilute a few drops of Peppermint in V-6™ Vegetable Oil Complex, and use it in a refreshing post-workout massage. Create your own home spa! Add Peppermint and Eucalyptus Radiata to hot bath water and enjoy the relaxing, invigorating scent and aromatic steam. Peppermint is in the same family as both Lavender and Rosemary. Diffuse the oils of these powerful botanicals together for a fresh aroma that uplifts the spirit. Peppermint Essential Oil Product Information Page EarthKosher Certified var shareUrl = '/en_US/products/infographic_peppermint'; var shareTitle = 'Peppermint:%20Did%20You%20Know?'; var sharePic = '/sites/en_US/images/WMG3131C1F8YNWW.jpg'; var shareTags = 'PeppermintEO,YoungLiving'; infoShare(shareUrl, shareTitle, sharePic, shareTags, 585);
Price
Retail: $28.95
Wholesale: $22.00
YL Product #: 3614
How to Use
Topical: Dilute 1 drop with 4 drops of V-6™ or olive oil. Test on small area of skin on the underside of arm and apply to desired area as needed. Aromatic: Diffuse up to 10 minutes 3 times daily. Caution: Keep out of reach of children. For external use only. Keep away from eyes and mucous membranes. If you are pregnant, nursing, taking medication, or have a medical condition, consult a health professional prior to use. Not intended for use on infants.
Ingredients
Peppermint (Mentha piperita)† leaf oil
† 100% pure, therapeutic-grade essential oil
Why pay retail?
Save up to 24% with Wholesale Pricing!
Did you know you could save up to a whopping 24% on your purchase by becoming a Young Living Member?
What does it mean to be a member? Well, it doesn't mean you are committing to purchase month after month after month. It doesn't mean you are now a salesperson with a quota. What a membership does mean is that you have the ability to purchase a great set of starter oils and you get to make all future purchases at a great discount! It also means that once you fall in love with Young Living products, like I did, you will have the option to tell others about them AND receive a commission check on their purchases!
Ready to sign up? Need to learn more? Click below! Want to just purchase retail for now? No problem! There's an option for that below too!