Cinnamon Bark Vitality™ – 5ml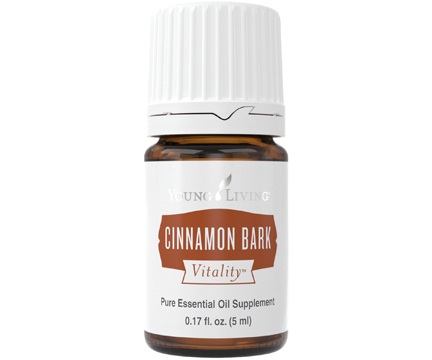 About the Product
Cinnamon Bark (Cinnamomum verum) Vitality™ essential oil is a concentrated and potent flavor that complements a variety of classic culinary treats. Not only is Cinnamon Bark Vitality oil used for its unique and spicy notes in recipes, but it's also a great dietary supplement and important part of Thieves®, Abundance™, and Inner Defense® essential oil blends. Using Cinnamon Vitality oil brings a warm taste and sensation to your favorite dishes. Taking Cinnamon Bark Vitality essential oil as a dietary supplement can support healthy digestion and help maintain a healthy immune system.* Cinnamon Bark Vitality Essential Oil Uses: Dilute 1–2 drops with V-6™ Vegetable Oil Complex in a vegetarian gel capsule and take as a dietary supplement to support your regular digestion.* Turn your NingXia Red® shot into a "Hot Shot" by adding a drop or two of Cinnamon Bark Vitality. Take a banana smoothie to a sweet new level with a drop of Cinnamon Bark Vitality. Use a drop to spice up your hot cereal. Substitute Cinnamon Bark Vitality in any recipe that calls for ground cinnamon. Cinnamon Bark Vitality Essential Oil Product Information Page *These statements have not been evaluated by the Food and Drug Administration. This product is not intended to diagnose, treat, cure or prevent any disease.
Price
Retail: $32.57
Wholesale: $24.75
YL Product #: 5585
How to Use
Dilute 1 drop with 4 drops of carrier oil. Put in a capsule and take 1 daily.
Why pay retail?
Save up to 24% with Wholesale Pricing!
Did you know you could save up to a whopping 24% on your purchase by becoming a Young Living Member?
What does it mean to be a member? Well, it doesn't mean you are committing to purchase month after month after month. It doesn't mean you are now a salesperson with a quota. What a membership does mean is that you have the ability to purchase a great set of starter oils and you get to make all future purchases at a great discount! It also means that once you fall in love with Young Living products, like I did, you will have the option to tell others about them AND receive a commission check on their purchases!
Ready to sign up? Need to learn more? Click below! Want to just purchase retail for now? No problem! There's an option for that below too!